Yesterday I took a little time to restyle the buffet. It has looked about the same for quite awhile so I had to give it a little jazz. Most of the items I already had except for the planters, I got a deal on the containers at Old Time Pottery and the plants (which are real) were on sale at a local nursery.
The dining room is really start to come together.
Here is a peek at my chair! What do you think?
LouLou Sucre
has a magazine giveaway be sure to stop by for your chance to
WIN!
Stop by and visit Sabrina she has a very lovely blog.
Until the next time
Vicky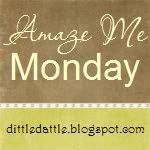 ""/>